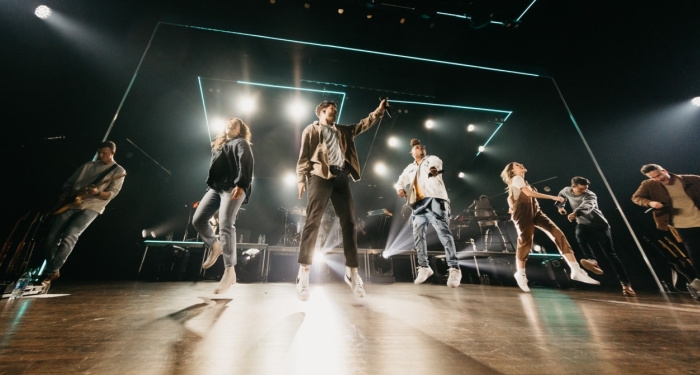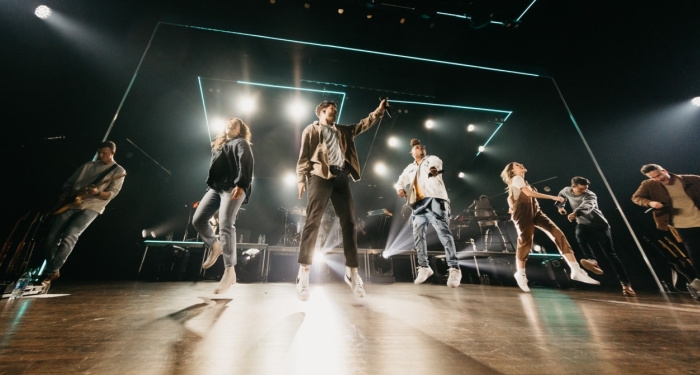 Over the weekend, the internationally known North Point Worship released its first album of 2022, Our God Will See Us Through. Available at digital and streaming outlets globally now, the album was recorded live on October 14 at North Point Ministries' Woodstock City Church campus and features the singles "This Is My Song," "God is Love," "Deliverer," and "Prodigals."

A common theme in each of these songs and throughout Our God Will See Us Through is the encouraging, hopeful message that the pathway to God is never far away as He is always calling His children home. Like the story of The Prodigal Son, perhaps one of the most relatable stories in scripture, people can tend to find themselves wandering toward the things that never satisfy because of fear, doubt, skepticism, or misaligned priorities.

"We wrote 'Prodigals' as a repentance song, an acknowledgment of going our own ways and failing to go back to the Father when He calls us," says worship leader Clay Finnesand.

Lauren Lee, who leads this song, encourages, "Regardless of how far away you may feel from the Father, I hope that you can remember through the words of this song that whether for the first time or the 100th time, He's still calling out to you and the door is open wide, walk through it."

Expanding on this remarkable invitation, Finnesand shares that "God Is Love" was inspired by Ephesians 3:16-19 and from his own wrestling with how God's people show love in contrast to the overwhelming love of God.
"The love of Christ is too great to understand, and yet we operate as if we can put Him in a box," says Finnesand. "My prayer is that if you have shame, it would be overcome. If you have a wound, it would be bound up in His mercy. If you have a heart that is beating, it beats because He wills it to and because He loves you. He is not done with you and He has a future for you."

For the Heath Balltzglier-led single, "This Is My Song," which was released along with the album, Balltzglier reminds us of the hope we have as Christians.

"I was raised on hymns and old gospel music," says Balltzglier. "At the beginning of the pandemic, so many of those old songs began surfacing in my soul again. I met up with two of my dear friends, Kyle Lee and Lacy Russell, and this song found us way more than we found it. No matter what we face, from generation to generation, God's people have always had, and will always have, a song of hope to sing."

This hopeful message also resonates in the Lee, Finnesand, and Desi Raines-penned song "Deliverer." The track was crafted during a North Point Worship writer's retreat as each of these writers were individually going through one of the hardest seasons of their lives. Led by Lee, the song is a declarative message of hope for the broken, addicted, depressed, anxious, and suffering.

More of the story behind these songs can be seen on both North Point Worship's Facebook and Instagram pages. Listen to Our God Will See Us Through here.

More Christian Music News Headlines
---

Hillsong Worship Withdraws from Spring Tour


Sunday, April 10, 2022

Nate Parrish Drops New Album


Sunday, April 10, 2022

North Point Worship Releases New Album


Sunday, April 10, 2022

Tauren Wells Announces Upcoming Album


Friday, April 08, 2022

Matt Sassano Joins the Rockfest Records Roster


Friday, April 08, 2022

The Wood Drake Sessions Announce Upcoming Album


Friday, April 08, 2022

Katy Weirich Releases New Single


Friday, April 08, 2022

Boiling Point Release Latest Single


Friday, April 08, 2022

Jordan Feliz's Hit Song "Jesus Is Coming Back" Reaches No. 1 At Radio


Tuesday, April 05, 2022

View All News
---
ADVERTISEMENT
<!–/* * The backup image section of this tag has been generated for use on a * non-SSL page. If this tag is to be placed on an SSL page, change the * 'http://www.nrt.cc/ads/www/delivery/…' * to * 'https://www.nrt.cc/ads/www/delivery/…' * * This noscript section of this tag only shows image banners. There * is no width or height in these banners, so if you want these tags to * allocate space for the ad before it shows, you will need to add this * information to the
tag. * * If you do not want to deal with the intricities of the noscript * section, delete the tag (from … to ). On * average, the noscript tag is called from less than 1% of internet * users. */–>