Today's Truth
Through faith in the name of Jesus, this man was healed—and you know how crippled he was before. Faith in Jesus' name has healed him before your very eyes. Acts 3:16
Several years ago, I visited Nashville with a group of girlfriends. One of the gals in our group texted a friend she knew who owned several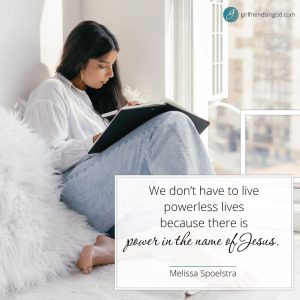 restaurants downtown for a recommendation. She directed us to a place and said to mention her name at the door.
To our surprise, when we gave her name, we were ushered into a special section with VIP treatment. Servers brought out complimentary platters of food and told us about the famous musicians who had occupied our seats the night before. I sat in awe at the unexpected blessings we received just by dropping a name.
We can discover the power of name-dropping for every Christ-follower in the pages of the book of Acts. Here we find that we don't have to live powerless lives because there is power in the name of Jesus.
In the days of the early church, a beggar got the attention of Peter and John when they were on their way to a three o'clock prayer service at the temple. This lame man was looking for money but got a lot more than he expected. Peter said, "Silver or gold I do not have, but what I do have I give you. In the name of Jesus Christ of Nazareth, walk" (Acts 3:6 NIV). In the name of Jesus, he found healing and wholeness.
Peter and John weren't super-Christians with special healing abilities, they just understood the power in Jesus' name. As I reflect on this miracle that took place in the early church, I'm asking myself how the power of Jesus' name can be more of a reality in my life. I want to apply this truth so now I begin to regularly apply this power to my prayers for others and my struggles. If Peter could heal a lame man through it, I know that my apathy, distraction, and weariness can't be too big for the power of Jesus' name!
We can look around at our world, our modern Christianity, and our daily struggles and feel powerless. In Acts 3, we find the disciples had awakened to the power of His name, and so can we.
I sometimes wonder why we don't see the number of miracles and healings that we find in the early church. Some say that God used these signs to establish the church and authenticate the message. Others propose that we receive little because we believe little. What we do know is that God is still working and healing. We can ask in Jesus' name as we pray.
In fact, Jesus told us to ask God using His name (John 14:13-14). Where do you need power today? Perhaps you are battling unforgiveness, jealous thoughts, a food addiction, or an apathetic attitude. Wherever you are feeling weak, Jesus invites us to ask God for power using His name!
Today I'm asking God for greater faith and understanding. I don't want to remain unaffected by the power of Jesus' name in my battles with small things like junk food and thought life as well as big things like fear and disobedience. His name can heal and turn us back from sin.
We can awaken to God's power as we begin to make requests in Jesus' name. It's not a magic word, but His name carries His authority and power. My friends and I were lavished with privileges when we used the restaurant owner's name. Jesus' name carries more weight than any other authoritative name we might know. He isn't a past historical figure, but our living hope. Speaking His name acknowledges that He can transform our lives and heal our brokenness.
Let's Pray
Lord, we want to see You work like You did in the early church. Our culture has changed but Your message has not. May we never grow numb to the power of Your name. Jesus, Your name is above every other name. Help us to understand Your power so that we might bring glory and honor to You!
In Jesus' Name, Amen.